Alaska Fishing Lodge & Tour Packages
Our Alaska Fishing Lodge has been guiding Alaska fishing trips and providing affordable fishing and lodging packages for decades. If your looking for an amazing Alaska fishing vacation and adventure package, give us a call and let our experienced team put together the Alaska fishing and lodging package or custom Alaska adventure package of your dreams.
Salmon Fishing
Our salmon fishing trips have been very successful because of the enthusiasm and devotion we provide to our guests. Our service is what sets us apart from the other Alaska fishing lodges and charter services. Our guest service is unmatched anywhere throughout the industry.
Rainbow Fishing
Have you ever caught a 30″ rainbow trout on a fly? Have you had your face splashed with water while releasing a giant wild rainbow trout? How about sharing the fishing hole with some of Alaska's wildlife? Sound like something that you might be interested in trying?
Halibut Fishing
Our Halibut is not only the largest, ugliest flat fish, but hands down the best non-fishy white meat demanded by all wives. So add a halibut trip to your fishing package and get your thrill of a lifetime.  
Kenai River Alaska Fishing Lodge
Comfortable Cabins
When we say that our guests mean the world to us we proved that in 2003. We have our repeat guests tell us exactly what they want their home away from home to be like.
Fast forward to now we keep trying to stay ahead of the times. Our cabins now have things like internet, cable television that you'll watch on a flat screen t.v., as well as top notch coffee. Basically, we have everything you need to be very comfortable on your Alaska Vacation.
Fish Processing
Once you have done all the work of getting to Alaska, having a blast catching your salmon or halibut, the last thing you want to worry about is what to do with your fish.
To help you put your worries behind you, we have built a 16×32 processing room.  It includes commercial vacuum sealers as well as a walk in freezer to keep your fish frozen until we box it up for you to take it home to your friends and family.
Why Fish With Us?
Professional Alaska Fishing Guides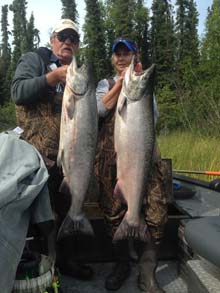 I just wanted to take a minute to thank all of our guest who have fished with us time and time again over the years. We value your friendship and enjoy seeing you each year.
To those who have never fished with us, we hope to earn your trust and business.
We hope you will choose Alaska Fishing and Lodging for your Kenai River fishing trip or Alaska Adventure.
Call us and let us help you set up an Alaska fishing and lodging package. We're always happy to assist our customers with finding the perfect itinerary of fishing and tour activities.
CALL US 907-252-5464
ANNOUNCEMENT
(Important changes for 2023)
Due to the low abundance of king salmon stock, Fish & Game has put in place more temporary regulations. They usually come out with them around the first of the year. This Kenai River overview should help guests' decide when they would like to come vacation on the Kenai Peninsula. If Fish & Game open things up and we're good to fish, then we will keep our guests informed on Instagram.
May 14th to June 10th
Kenai River – Fish for sockeye salmon and kings if they are open.
Saltwater – Fish for one halibut of any size and one under 28″, one king salmon, while trolling for kings you have chances to land a feeder king, white king, marbled king or the largest which is a spawner king.
On the Kenai River the kings are usually open with a slot limit until around the 11th of June. If we're doing a king trip and the first run of sockeye is running then we will do a combo king and sockeye trip. Basically, we are going to go after whatever species that is running at the time.
June 11th to July 10th
This is roughly around the area of when Fish & Game shut down the kings in previous years. On June 11th the opening for trout fishing starts, and also the opening of the Russian River sockeye fishing limit of 3 sockeye.
July 1st
(starts the second run of king salmon)
If Fish & Game predict a low abundance of second run kings then they could start us out with a slot limit, go to catch and release, or even close us down. If you're looking at this time, check into the regulations or give us a call.
July 11th – Aug 15th
We're in full swing fishing off the bank for sockeye salmon. We start early in the morning to make sure we get a good spot and get a chance to get a limit of 3 sockeye salmon. Around the 24th of July there is a chance that the slot limit will be increased to 6 sockeye.
August 16th to August 31st
Starting on Aug 16th Fish & Game allows us to start fishing bait out of our boats for silver salmon on the Kenai River. The limit is 2 silvers per guest and if the limit is 3 on the sockeye salmon then you would be able to get 2 silvers and 1 sockeye. If the limit goes to 6 sockeye the guest would be able to get 2 silvers and 4 sockeye basically 2 silvers toward whatever the sockeye limit. This is also a great month to add a halibut trip to your package. The trout start moving up river slowly around the 24th of Aug, a great time to intercept them.
September 1st to September 31st
(Sept 1st starts the second run of silvers)
Starting Sept 1st the limit goes to 3 silvers and they are usually bigger, our camp record is a 21 pounder. Also Sept is the month that produces some great trophy rainbow and dolly fishing, this is a catch and release guided adventure. Our Sept guests that want to add some pearl white halibut meat to their box usually book until around the 15th of the month, you could add feeder kings to this trip as well. Another favorite of Sept is a flight to Crescent Lake, which I think is as close to fishing with wild bears as you're able to get in Alaska.
Our Sponsors
How Do I Book a Fishing and Lodging Package?
Booking a trip with us is very simple. Just give us a call or drop us an email to get your trip started. We will personally work with you to arrange the best Alaska fishing vacation package itinerary to fit your specific needs. Together we can formulate the best dates, choose the best guide, reserve the appropriate lodging, discuss options on rental cars, adventure tour add-ons and any other special needs you might have. Once we settle in on a specific trip, a security deposit will hold the reservation for the dates and activities for you and your group.
Our Fishing Lodge Location
Alaska salmon fishing at our Soldotna fishing Lodge is truly unlike anywhere else. We are located about 2.5 miles from Soldotna, which means we are very close to all of the world famous Kenai River fishing and activities hotspots.
An Affordable Alaska Fishing Lodge
Our budget priced, fully equipped, Alaska Salmon Fishing Lodge located in beautiful Soldotna, Alaska is one of the most reasonably priced Alaska Fishing Lodges anywhere on the Kenai River. Our comfortable cabins now have things like high speed internet & smart tvs that you can watch your streaming services on. All the cooking essentials you need, just ask if it's not in the cabin. Whether you're interested in catching our powerful King Salmon, hard fighting Silver Salmon, native Rainbow Trout, barn door Halibut, or just want to stay at a premier Alaska fishing lodge, these discount Alaska fishing packages can make your wishes come true.
Prices include lodging in one of our nicely equipped cabins, guided fishing on the Kenai River for salmon and trout, as well as guided halibut fishing in Cook Inlet, Alaska's foremost halibut fishing waters. We now offer complete Alaska fishing combo trips for king salmon, silver salmon, sockeye salmon, halibut, and other saltwater species, in our adventure tours.
CALL TO BOOK 907-252-5464